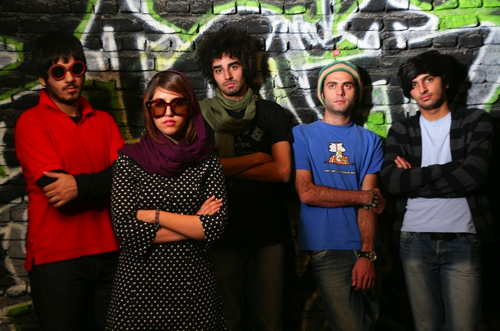 One of the Iranian films I really enjoyed watching this year was
No One Knows about Persian Cats
. That's actually a long title for a film and it wouldn't give you any idea what it would be about till you watch it yourself.
For me it is a cheerful film, if you just ignore the ending. Have you ever seen musical films full of fantastic songs? It is like them, though it's not a musical film. It's a film about music.
No One Knows about Persian Cats is the story of a boy called
Ashkan
and a girl called
Shaghayegh
, who both sing in Indie Rock genre. Whether they're a couple or not, it's not stated in the film, but you see they spend most of their time together.
The both try to form a band and get out of Iran to give a concert in London. They also need a visa to do so and illegally try to have it with the help of a man called
Nader
who's also a music lover and has got a crazy life. The tree explores Tehran in search of people who are willing to work with them to gather a band.
The whole film is their story of meeting the underground singers and musicians, and the difficulties these people have in producing their work and giving concerts. In one word, the pains Iranian musicians suffer.
You can hear many different genres of music in this film, which would be so enjoyable. I specifically love the soundtrack 'Drunk with Love' by
Rana Farhan
. Listen to this beautiful soundtrack on here:
I really, really, really love it!
The bands and singers who appeared in this film are: Take It Easy Hospital, Rana Farhan, Hichkas, The Yellow Dogs Band, Shervin Najafian, Ash Koosha, Mirza, The Free Keys, Mahdyar Aghajani, Darkoob, Hamed Seyyed Javadi, Nik Aein band.
Rana Farhan
The people who played in this film are: Negar Shaghaghi, Ashkan Kooshanejad, and Hamed Behdad. The director is Bahman Ghobadi.
From left to right: Ashkan Kooshanejad, Negar Shaghaghi, Bahman Ghobadi and Hamed Behdad
The awards this film won are:
Cannes Film Festival (Special Jury Prize)
Miami International Film Festival (Audience Award)
Sao Paulo International Film Festival (Best Foreign Language Film)
Tallinn Black Nights Film Festival (FICC Jury Award, Jury Prize for Cinematography, and NETPAC Jury Award)
Tokyo Feilmex (Special Jury Prize)
No One Knows about Persian Cats was released in countries like: the US, the UK, France, Belgium, Australia, the Netherlands and Israel during 2009-2010.
I strongly recommend you to watch this film, especially since it can be found free online with English subtitles. Watch the trailer:
Read also: