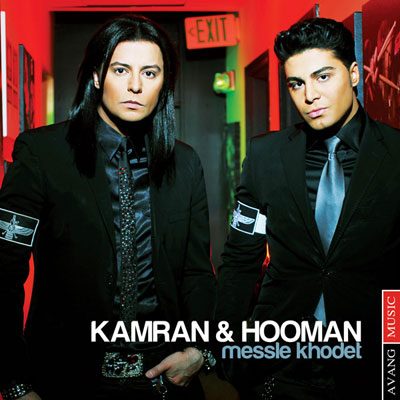 Wanna listen to beautiful Iranian songs full of emotions? Listen to Kamran and Hooman!
Kamran and Hooman, are one of the top ten popular Iranian singers living abroad. They were born in Iran but they moved to Canada with their family when they were children, have grown up there and later came to the US, LA. They're brothers and Kamran, the one with long shiny raven-black hair is the elder brother.
I'm not sure in which year exactly they began their singing career, but it was 1990s, and the first video they appeared in was "Lily for Me, Lily for you, Lily for Me and You and the Whole World". They first sang in band called "Black Cats" but after 4 years they left the band and continued their work on their own.
Their songs are creative, full of emotions, and have noble lyrics written by Maryam Heydarzadeh and Ramin Zamani. They sing everywhere with eachother, inseperable brothers. What is very nice about them is they dance very beautifully, in fact when Kamran dances it reminds me of Michael Jackson.
I chose one of their best songs for you on here and here's my translation of lyrics for you.
If I love you too much,
Forgive me.
If you're the only one I want,
Forgive me.
Forgive me,
If I count the stars at night.
Forgive me,
If I tell you too much "I love you much".
Forgive me,
If I pick flowers for you baskets after baskets.
Forgive me,
If I only see you in my dreams at nights.
(chorus)
Forgive me,
If I'm too little for your eyes;
You're an angel and me,
If I'm just a human!
Forgive me,
If I die for you and come alive.
If I get embarrased in your face,
With my craziness.
Forgive me,
If I only ask God to take after you;
If in front of strangers,
I say "you" instead of "my love".
Forgive me,
I don't wanna show you to the Moon.
Don't wanna give your adress,
To the night and to the sky.
Forgive me,
If I only want you for myself.
Forgive if I'm too little,
But fell for you too much.
(chorus) x4